CHN Helps People with Chronic Pain Find a Better Way to Live

For people suffering with chronic pain conditions, sometimes "the pain you know" can feel safer than making a change. It's natural to feel hesitant – perhaps even a little afraid – of adjusting your pain management plan and taking a risk that the new course of action might, unintentionally, make things worse.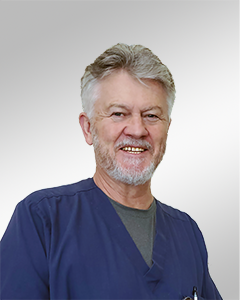 At the same time, those living with chronic pain often feel desperate for some relief. That's where Curry Health Network's Pain Management Services come in. Board-certified pain management specialist Christopher Amsden, MD, approaches care differently to help address pain from a variety of angles, as well as to give patients the confidence to try again.

"Chronic pain can be exhausting," admits Danyell Thomson, CMPE, CRHCP, Director of Primary Care Clinic Services at Curry Health Network. "Dr. Amsden takes the time to dig deeper and find ways to go beyond efforts to simply cover up the pain. His goal is to provide an alternative to living a chronic pain lifestyle."

Since patients need a referral to see Dr. Amsden, they have typically tried numerous other pain management techniques long before they walk through his door. Many times, those early attempts relied on stronger and stronger pain medications.

Instead, Dr. Amsden prefers a broader view of each patient's situation.

"Rather than covering up or masking the pain, he examines all aspects of a patient's lifestyle and health information to explore new opportunities for pain reduction or relief," Thomson explains.

For example, CHN's pain management services combine lifestyle techniques with traditional and holistic medical treatments, providing a comprehensive approach to rebuilding a robust life. This can include:

• Conditioning, weight management, and lifestyle changes
• Recommendations for medications with lower risk for habit-forming
• Physical therapy treatment
• Spinal manipulation techniques
• Acupuncture and other holistic options
• Psychological skill development
• Stress relief education
• Joint, back, and neck injections
• Epidural steroid injections
• Nerve blocks

"Pain can be complicated," Thomson confirms. "Chronic pain often stems from multiple sources and stressors. It's important to work with someone who is up for the challenge of figuring out the puzzle of your personal pain story."

Thomson also shares that one of the biggest advantages of working with Dr. Amsden is the convenience of local care. "If not for the pain management services at Curry Health Network, patients would have to drive two to three hours for this kind of quality specialty care. That's always important, but it is especially important for people who are often in pain."

Learn more about Dr. Amsden's approach to treating chronic pain by calling 541-412-2000 or on our website. Or ask your primary care provider for a referral to Dr. Amsden at Curry Health Network Pain Management.