Curry Health Network Welcomes Dr. Tyler Ferris
New Family Medicine Physician Comes to Brookings Facility
What began as a favorite childhood vacation destination turned into a lifelong goal for Curry Health Network's newest family medicine physician, Dr. Tyler Ferris.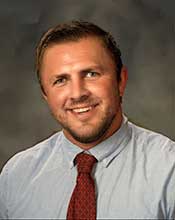 Ferris, a Utah native, recently moved his six-member family to Brookings, where he will begin seeing patients on December 15 at Curry Medical Center.
"We love the area," says Ferris. "I always have, and my wife fell in love with it when we visited after we were married.
"It's been somewhere we've always wanted to end up, and when we had the opportunity to do that, we made the move."
Dr. Ferris and his wife Kate have four children between the ages of 13 and 6; being outdoors is a passion for the entire family - "Their favorite thing is probably the beach" - and Ferris has his sights set on upgrading his fishing game.
"It's a learning curve, going from fishing mountain streams and lakes to the ocean, but I am looking forward to catching some bigger fish," Ferris says.
Fishing isn't the only sport that interests Dr. Ferris: the entire family is committed to soccer, with both Ferris and his wife volunteering as coaches for each of their children's youth teams. It's something they hope to become involved with again in Brookings.
Whether on the field with the team or in the exam room with patients, listening is one of Ferris' key skills: "I try to provide as much time as the patient needs, and I try to provide that for every patient. Sometimes what a patient needs is just to talk and work through some things.
"I take a piece of paper into the exam room with me; I feel it's more personal to jot down notes on that paper. I really care about getting to know my patients, and getting to know them is how I provide better care for them."
Board certified, Dr. Ferris completed his medical education in 2014 at Ohio University Heritage College, Athens, Ohio after earning a Bachelor of Science degree in Biology with a minor in Chemistry from the University of Utah in Salt Lake City. He has experience providing exceptional care as an attending physician in a family medicine clinic, as an emergency department physician, and in urgent care.
To make an appointment with Dr. Ferris at Curry Medical Center in Brookings, please call 541-412-2000 or go to www.CurryHealthNetwork.com to learn more.